I spent quite a bit of time in Hong Kong between 1995 and 1997. I was actually there the night the People's Republic of China (PRC), enacted "The Handover", that occurred on June 30 1997 (or July 1 depending how you count).
Here's some "Before" pictures of the Voice and Data network in Wan Chai that I inherited and some of the new network I designed for the new building in Causeway Bay.




This is the old office in Wan Chai.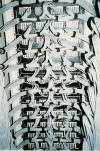 This is the new office in Causeway Bay.